The Realized Idiot: The artful psychology of G.I. Gurdjieff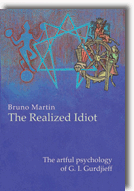 This little book dares-to-share a handful of understanding that has resulted from it's author being "active in front of a mystery" — that mystery is Gurdjieff's legacy of work with the science of idiotism.
Written by second-generation impudent-upstart Bruno Martin, The Realized Idiot will no doubt be criticized by a few whose conditioned-timidity has overpowered their instinctive risk-of-realization. Nevertheless, most grandchildren of Gurdjieff will appreciate Martin's Realized Idiot for more than it's feats of daring-do. Keeping in line with Gurdjieff's way of using the ritual toasts-of-the-idiots solely at meals, Martin — initiated into the toasts by JG Bennett — has directed since his time at Sherborne many ritual meals intentionally aimed at exploring and developing with others an "artful psychology of G.I. Gurdjieff."
As reported by Elizabeth Bennett in Idiots in Paris, the science of idiotism was used regularly by Gurdjieff at meals the last years of his life in Paris. Except for the work-with-others of Mr. Bennett, the work of others who learned it from Bennett, and now of Bruno Martin, little is known or understood publicly of this part of the legacy left behind by Gurdjieff — and little has been written about it until now.
Without hazard there is no possibility of a transformed life. Life without risk is mechanical life. Bruno Martin, native German, longing for developing life, has humbly approached the mystery of "creative risk" in this his first English language book. Contained in it are more than a few gems worth our time and attention. Read this book, take his handful of understanding and feel an invitation to dig deeper into our human mystery of being.