Thomas & Olga de Hartmann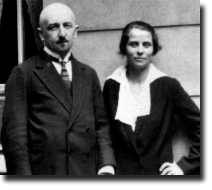 Born in the Ukraine, Thomas de Hartmann was already an acclaimed composer in Russia when he first met Gurdjieff in 1916. He told Gurdjieff that he and his wife were "searching for a way to develop." On February 9, 1917, Olga de Hartmann met Gurdjieff in Ouspensky's St. Petersburg apartment.    Olga de Schumacher was born on August 28, 1885, in St. Petersburg to parents of German-Lutheran ancestry. As a young woman, attending a recital of Thomas de Hartmann's music, she met the composer and felt as though the two had long ago known one another. They were married in 1906.
From 1917 to 1929 Thomas was a pupil and confidant of Gurdjieff. During that time, at Gurdjieff's Institute at the Prieuré, near Paris, de Hartmann collaborated with Gurdjieff to compose a body of musical work that continues to inspire to this day. Olga de Hartmann was Gurdjieff's personal secretary for many years. On the night of December 16, 1924, at his apartment in Paris, Gurdjieff dictated while she wrote: It happened in the year 223 after the creation of the World … Through space flew the ship Karnak. Thus "Beelzebub" was born and Olga became the scribe for a series of tales that A. R. Orage later described as on the level of scripture.
Together, Thomas and Olga de Hartmann wrote Our Life with Mr. Gurdjieff. Thomas died on 28 March 1956, in New York City. Olga died in Santa Fe, New Mexico on 15 September 1979.
No products were found matching your selection.