It's Up to Ourselves: A Mother, A Daughter, and Gurdjieff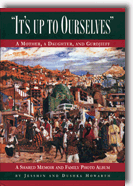 With innocence, discipline, intelligence, and understanding, Gurdjieff's daughter, Dushka "Sophie" Howarth fills in a major backstory in the history of Gurdjieff's early (1920s-1930s) and later (1948-1949) transmission of his dance work through his personal encounters with those able and willing to transmit and teach his dances.
Join Dushka and her mother Jessmin — two major transmitters of authentic Gurdjieff dance-work — as Dushka (she compiled and edited a lifetime of family material for this book) gently but firmly, page-by-page, pulls back the curtains of uncertainty and past historical necessity and brings to front stage center a deeper density of weave in the human fabric and creative genius of the man who called himself "simply a teacher of dancing" — her father, George Ivanovitch Gurdjieff.
Thank you for this book's coming out!