Jane Heap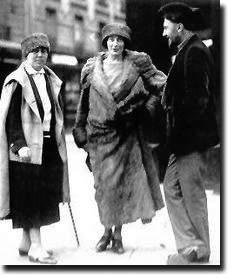 Jane Heap (1883 – 1964) (at left in photo with Mina Loy & Ezra Pound, Paris, c. 1923) was an American publisher and a significant figure in the development and promotion of literary modernism. Together with Margaret Anderson, her friend and business partner (who for some years was also her lover), she edited the celebrated literary magazine The Little Review, which published an extraordinary collection of modern American, English and Irish writers between 1914 and 1929. Heap herself has been called "one of the most neglected contributors to the transmission of modernism between America and Europe during the early twentieth century."
Heap met G. I. Gurdjieff during his 1924 visit to New York, and was so impressed with his philosophy that she set up a Gurdjieff study group at her apartment in Greenwich Village. In 1925, she moved to Paris, to study at Gurdjieff's Institute for the Harmonious Development of Man, where Margaret Anderson had moved the previous year alongside her new lover, soprano Georgette Leblanc. Although they now lived separately, Heap and Anderson continued to work together as co-editors of The Little Review until deciding to close the magazine in 1929. Heap also at this time adopted Anderson's two nephews, after Anderson's sister had had a nervous breakdown, and Anderson herself had shown no interest in becoming a foster mother.
Heap established a Paris Gurdjieff study group in 1927, which continued to grow in popularity through the early 1930s, when Kathryn Hulme (author of The Nun's Story) and journalist Solita Solano (Sarah Wilkinson) joined the group. This developed into an all-women Gurdjieff study group known as "the Rope", taught jointly by Heap and by Gurdjieff himself.
In 1935, Gurdjieff sent Heap to London to set up a new study group. She would remain in London for the rest of her life, including throughout The Blitz. Her study group became very popular with certain sections of the London avant-garde, and after the war its students included the future theatre producer and director, Peter Brook.
No products were found matching your selection.