Rodney Collin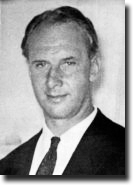 Rodney Collin Smith was born in modest circumstances in Brighton, England, on April 26, 1909.
He graduated from the London School of Economics and began working as a free-lance journalist, which allowed him to travel extensively. During one of these trips he met his future wife, Janet Buckley.
Rodney and his wife met P.D. Ouspensky in the autumn of 1936. From then on he dedicated all his time to the study of Ouspensky's teaching. Rodney and his family moved to a house in Virginia Water near Lyne Place, which was the work center for Ouspensky and his wife. After the outbreak of war Rodney remained at Lyne Place, working in London in the censorship during the day and in the local air raid defense at night. In 1941 he was transferred to Bermuda, and traveled by coincidence on the same ship that took Ouspensky to the United States. For the next six years he spent more and more time with Ouspensky, becoming deeply attached to him. When Ouspensky returned to London in early 1947, Rodney Collin followed him, and remained with him until Ouspensky's death on October 2, 1947.
Rodney and a small group of his followers left in June 1948 for Mexico. He began teaching the Fourth Way ideas at regular meetings held in a flat in Mexico City. After the first translations into Spanish of Ouspensky's books, Rodney formed the publishing company, Ediciones Sol, which published fourteen titles, including books by Maurice Nicoll and others connected with the Work. As a consequence of the distribution of these books in Latin America, groups were started in Peru, Chile, Argentina, and Uruguay. In January 1955, he visited the groups in Lima and Buenos Aires and went to Cuzco and Machu Picchu to study the remains of the ancient civilizations. Rodney Collin died in Peru on May 3, 1956.
No products were found matching your selection.